Voters turnout by 1pm in local elections in Lucani 35 percent, tension increases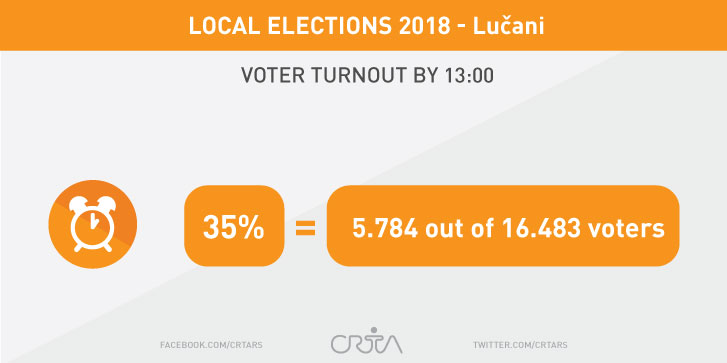 A total of 5.784 citizens (35 percent) registered in the voters list voted in local elections in Lucani by 1pm, the CRTA election observation mission stated.
Serious election irregularities were recorded at 11 out of 43 polling stations, including voting without valid identification documents, breach of the secrecy of voting, not using the invisible spray and UV lamp, as well as parallel lists of voters. As one of the cases of pressure on voters, unidentified persons were observed  in front of the polling station in Kotraza checking voters' identity.
Mobile teams of the CRTA's election observation mission, observing the atmosphere and developments outside of polling stations, registered many vehicles with licence plates from other towns (Pancevo, Novi Sad, Vrsac, Kosovska Mitrovica), as well as vehicles without licence plates. Vehicles cruise through Dragacevo region, park in front of almost all polling stations, while unidentified persons from vehicles communicate with members of polling boards.
Acts of pressure on CRTA observers were recorded as well. During the monitoring of election developments in Grab, tires on CRTA mobile team's vehicle were cut, while unidentified persons restricted the mobile team members to access the polling station.
In addition, minor irregularities were recorded at 11 polling stations, including polling stations not organized in accordance with established procedures, distribution of campaign material less than 50m from the polling station and use of mobile phones at polling stations.
CRTA invites all stakeholders participating in elections to act responsibly and to respect and comply with election rules and procedures in order to reduce tensions and ensure the regularity of the elections.