Report: Mapping disinformation in the Serbian media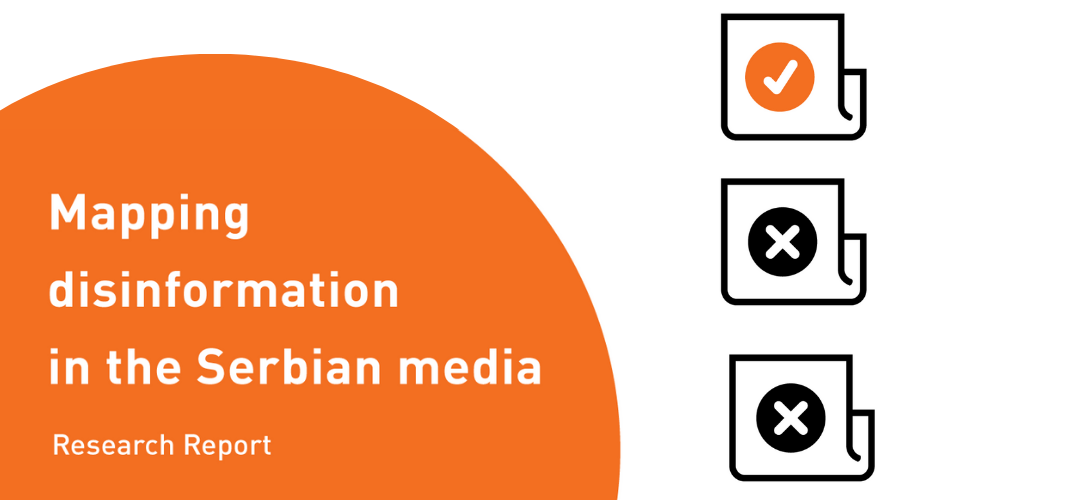 The current situation in Serbian media is characterized by information disorder with extreme propaganda and manipulation of facts. In this analysis, we tried to uncover the main mechanisms, scope and nature of disinformation in Serbian media. 
Spread of disinformation in Serbian media
Our main findings show that, numerically, disinformation overpowers the news. More precisely,  this study identified 559 different types of disinformation cases in 494 news items disseminated in 14 (out of 15 analysed) Serbian news media. Our study found that false, misleading and manipulative information occupy a significant portion of news in some of the analysed media. Online editions of tabloids Alo and Kurir account for more than half of all the news containing disinformation. They are followed by two printed dailies Večernje novosti and Informer. Among the TV channels with national coverage, TV Pink more frequently disseminated disinformation than other news media. Central news of the public broadcaster Radio-television of Serbia 1 (RTS 1) had the fewest disinformation. 
Main topics of disinformation
Disinformation is primarily oriented towards national lines of polarisation, whereas international affairs serve primarily as their background. False, misleading and manipulative information occurs around a set of topics, most notably relations between the government and opposition, but also around Kosovo and events such as the environmental protests or protests against the mural dedicated to Ratko Mladić. Events, such as protests, led to heightened media reporting and served as a framework within which dichotomies, such as government–opposition or Belgrade–Priština, are accentuated and reaffirmed through the use of disinformation.
Main targets of disinformation
Disinformation is frequently spread when it relates to those who challenge the government. In over half of the news items containing disinformation, opposition parties and individuals were targeted in online news media Alo, national TV channels TV B92 and TV Pink, and local TV channels Novosadska TV and RTV Pančevo. 
Creators of disinformation 
We can distinguish between two groups of creators of disinformation – sources (officials, politicians, experts, etc.) who make claims that contain disinformation and journalists who either fail to validate these claims or who create disinformation on their own, as creators and not just distributors. In online news media Alo, local TV channel Novosadska TV and printed daily Informer, disinformation was prevalently created by in-house journalists. High participation of journalists in the creation of disinformation was found in TV channels with national coverage TV Pink and Happy TV, local TV channel RTV Pančevo, printed daily Večernje novosti and online news media Kurir. On RTS and, to some extent online news media N1, disinformation was the result of the coverage of the statements made by high officials, which were disseminated without fact-checking. In other media, we found a mixture of different groups of creators of disinformation.
Disinformation within a wider context of the Serbian media landscape
The data on the frequency of disinformation viewed against the data on different sources of state financing of the media show that the media that are prominent generators of disinformation receive substantial amounts of public funds. This trend can be observed across the markets. In online news media, the two media (Alo and Kurir) that spread more disinformation than others (Blic, N1 and Nova) receive more support from project co-financing and state advertising. Two printed dailies (Informer and Večernje novosti), in which disinformation is found almost on a daily basis, also receive public funds. The TV station who most frequently produces disinformation (TV Pink) received the most from state advertising (and other benefits). Finally, in the local TV market, RTV Pančevo and Novosadska TV confirm this trend. 
Methodology
The primary purpose of this analysis is to comprehensively map news disinformation in Serbian media by analysing print, online and TV news and by analysing the performance of disinformation on the social networking site Facebook. The mapping of disinformation analysis and its results are placed within a broader context of the Serbian media landscape analysis. 
The mapping of disinformation was conducted in the period September–December 2021 on four weekly samples (a total of 28 days). It included 15 media in Serbia: central news of 5 TV channels with national coverage (RTS 1, TV Pink, TV B92, TV Prva and Happy TV), central news of 3 local TV channels (TV Pančevo, Novosadska TV, RTV Novi Pazar), 5 online news media (Alo, Blic, Kurir, Nova, N1), and 2 printed dailies (Informer and Večernje novosti). The sample is formed in such a way to include most frequent news sources among Serbian citizens, most popular media across different media markets, diverse political views and media that received substantial amounts of state funding. 
In its overall design, the methodology combines qualitative and quantitative content analysis with the fact-checking and debunking procedures. The categorisation of disinformation was developed relying on previous studies whilst also taking into account the nuances in misinformation ecology. It included: false connection, manipulation of facts and misleading content, misleading or false context, extreme bias, imposter content, photo and video manipulation, and fabricated news or information. In addition to the analysis of traditional media, the mapping included a study on the frequency and type of engagement with the disinformation on Facebook. 
The comprehensive research report "Mapping disinformation in the Serbian media" is available here.