Minimal Standards Fulfilled, Democracy Endangered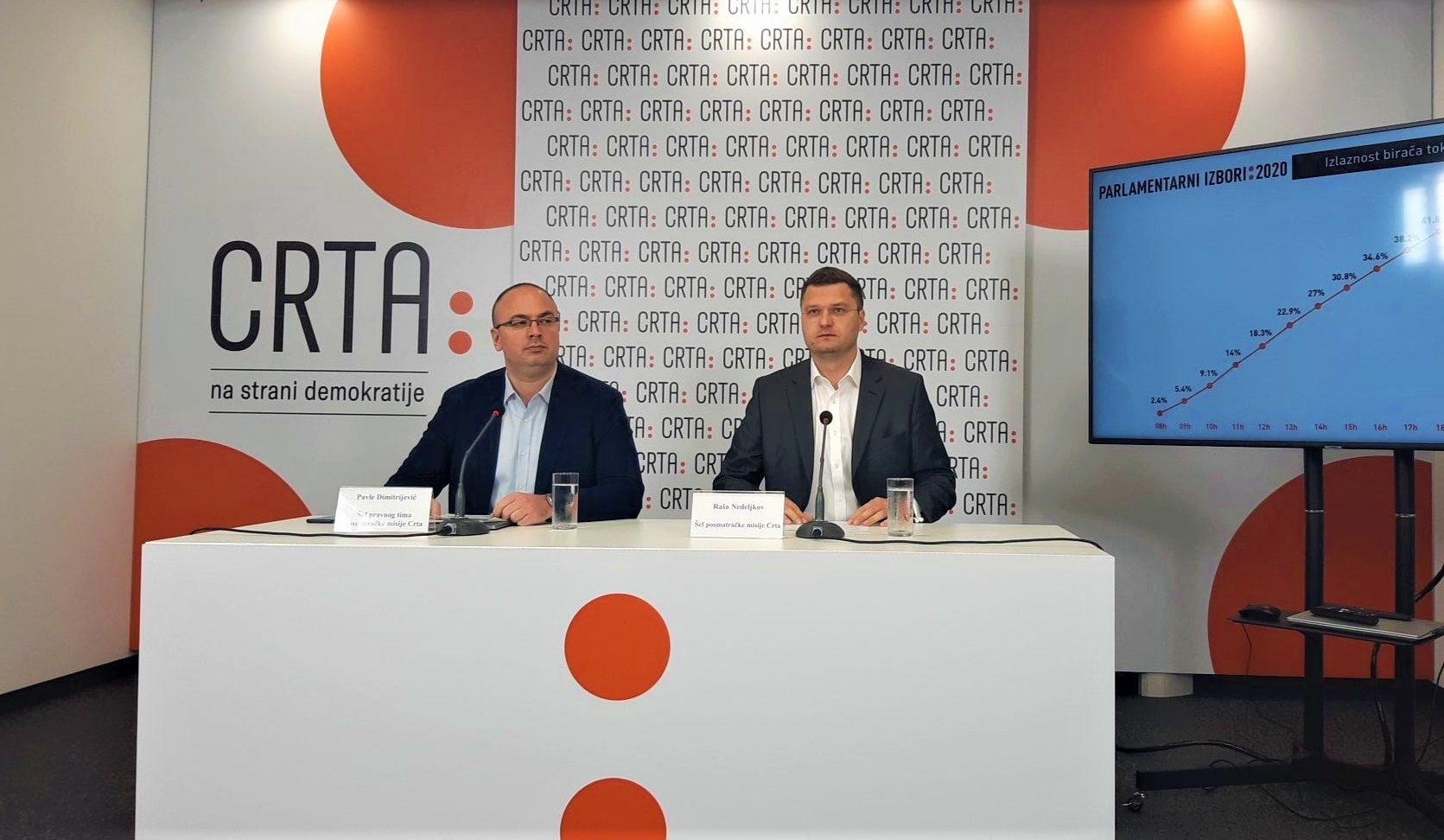 In terms of the quality of the election day conduct and, more significantly, the entire election process, 2020 parliamentary elections are the worst among the elections that CRTA observed thus far – the CRTA's election observation mission concluded. CRTA's mission monitored the election day in parliamentary elections at the random representative sample of 500 polls, which ensured the assessment and reporting on regularity of the election conduct for all polling stations. 
Based on the preliminary analysis of the election day conduct, irregularities and incidents were recorded within the range from eight to ten percent of polling stations, which is twice as much if compared to those identified in 2016 and 2017 elections. 
Considering the type of irregularities and their dispersion throughout the country, CRTA estimates that the identified irregularities primarily affected the voter turnout, that would account to around four percent less if these irregularities did not occur. 
"Although these elections fulfill the minimal democratic standards, they jeopardize the quality of democracy in Serbia. Considerable effort has been invested to create the illusion of democratic elections through lowering the census or the number of registered voters through "revision" of the voters list, however after these elections we can only expect that the next elections will be even worse", Rasa Nedeljkov, the Chief of the CRTA's election observation mission stated. 
Through three levels of election monitoring – inside the polling stations, in front of the polls and at households of voters who registered to vote outside of polling stations, CRTA's observers recorded electoral breaches such as: breaches of secrecy of voting, evidencing voters in parallel lists of voters, pressures on voters, vote buying, allowing voting without the prior identification of a voter and without using the UV lamp etc. Three cases of electoral corruption, known as the "carousel voting", were recorded as well and reported to the police. CRTA's observers also witnessed the physical incidents at two monitored polling stations, as well as cases where voters were not evidenced in the voters list and were, consequently, not allowed to vote. 
Election campaign preceding the election day was marked with significant changes of the key rules of the game within the election process, inequality of electoral contestants, intensive public officials campaigning at all levels, abuse of public resources, as well as the apathy of institutions that should protect the integrity of elections. 
In the following days, CRTA will further analyze recorded irregularities and will submit complaints to authorized institutions in reaction to identified breaches affecting the electoral process. CRTA will present its final assessment in the final election observation report.