Voter turnout by 9am – 5,4 percent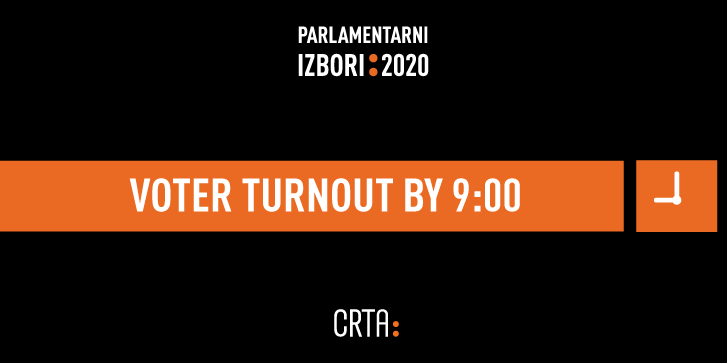 A total of 5,4 of voters have voted until 9am, out of 6.584.376 registered to vote at the parliamentary elections at 8.433 polling stations.
Majority of polling stations was opened on time, while slight delays were recorded at only 13 percent of polls.
CRTA's observers are deployed at the random representative sample of 500 polling stations, which enables the reporting on the election process and regularity of election procedures for all polling stations in Serbia. Access to the polling stations was provided to almost all CRTA's observers, except at three polling stations where presence of observers was not allowed at the opening of polls, only soon afterwards.
Observers report that 96 percent of polling stations was prepared in accordance with established procedures. A total of 97 percent of polling stations fulfilled the requirements for the work of the polling boards.
Members of the polling boards were provided with protective sanitary kits (masks, gloves…) from the Republic Electoral Commission along with the election materials at 97 percent of polling stations.
All members of the polling board in permanent composition were present at the opening of polling stations at 90 percent of the polls.
All activities of polling boards were recorded in the polling board records at 90 percent of polling stations.
Bags with election materials were received sealed at 99 percent of polling stations, while the control ballot was casted in the ballot box prior to the voting process at 99 percent of the polls.
A total of 44 percent of polling stations throughout Serbia is accessible to persons with disabilities.
Major irregularities that could influence the voting results were recorded at 2 percent of polling stations, including cases where secrecy of voting was breached, voters not registered in the voters list were allowed to vote, as well as cases where the ballot box was not sealed and controll ballot was not presented to the first voter.
The next media conference of the CRTA's election observation mission is scheduled for 11.30am. You may follow the conference live at the CRTA's website or Facebook page.
____________________________________________________________________________________________________________
In the capacity of a domestic election observation mission, CRTA monitored the entire election process in the 2016 parliamentary elections, 2017 presidential elections and 2018 Belgrade elections by the highest international standards, thus contributing to higher transparency of these elections. Findings and recommendations of the CRTA's observation mission corresponded to the findings and recommendations of the OSCE/ODIHR international observation mission. CRTA is a member of the European Network of Election Monitoring Organizations (ENEMO) and the Global Network of Domestic Election Monitors.