Turnout in the referendum 29,6 percent, majority of citizens voted "for" constitutional changes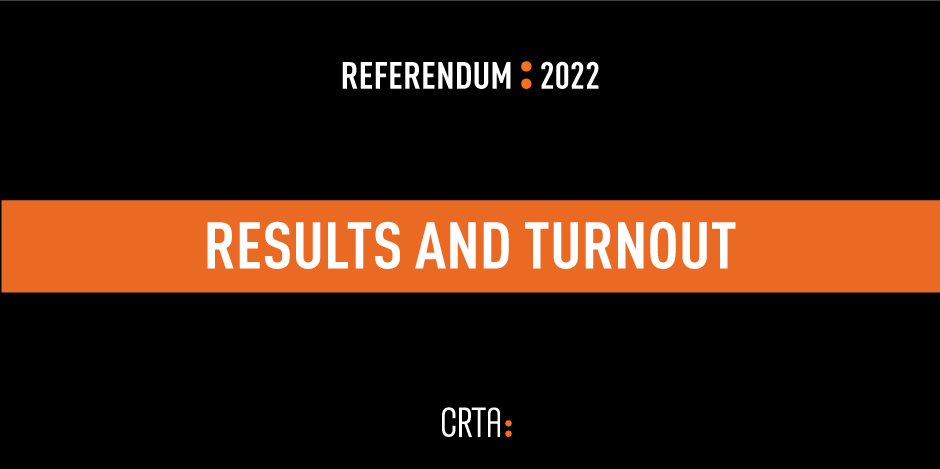 On the basis of 98 percent of processed sample, a total of 57,4 percent of citizens who voted "for" the confirmation of the act on changing the Constitution of the Republic of Serbia, while a total of 41,6 percent of voters voted "against" constitutional changes, the CRTA's observation mission reported. Margin of error with confidence interval of 95% was +/- 2,4 percent. Invalid ballots numbered a total of 1 percent of ballots.
Total turnout in the referendum was 29,6 percent of voters registered in the voters list. Margin of error with confidence interval of 95% was +/- 1,3 percent.
A total of 6.510.323 voters had the right to vote, at 8.150 polling stations in Serbia, not including polls abroad and in prisons and correctional facilities.
Different types of irregularities were recorded at 4 percent of polling stations. CRTA's observation mission assesses the poor quality in the conduct of the voting process, reflecting in inadequate preparation of polling stations and breaches of voting procedures outside of polling stations. On significant number of polling stations – almost 30%, all members of polling boards were not present at the polls opening, representing the inadequate preparedness of bodies authorized to conduct the voting process.
Two cases of pressure on CRTA's observers were recorded as well, preventing observers to monitor the voting process at polling stations. Unidentified persons, with unauthorized presence at polling stations, insulted and intimidated the observers. CRTA decided to withdraw one observer from the polling station.