The third generation of the Academy for Democracy is ready for dialogue and change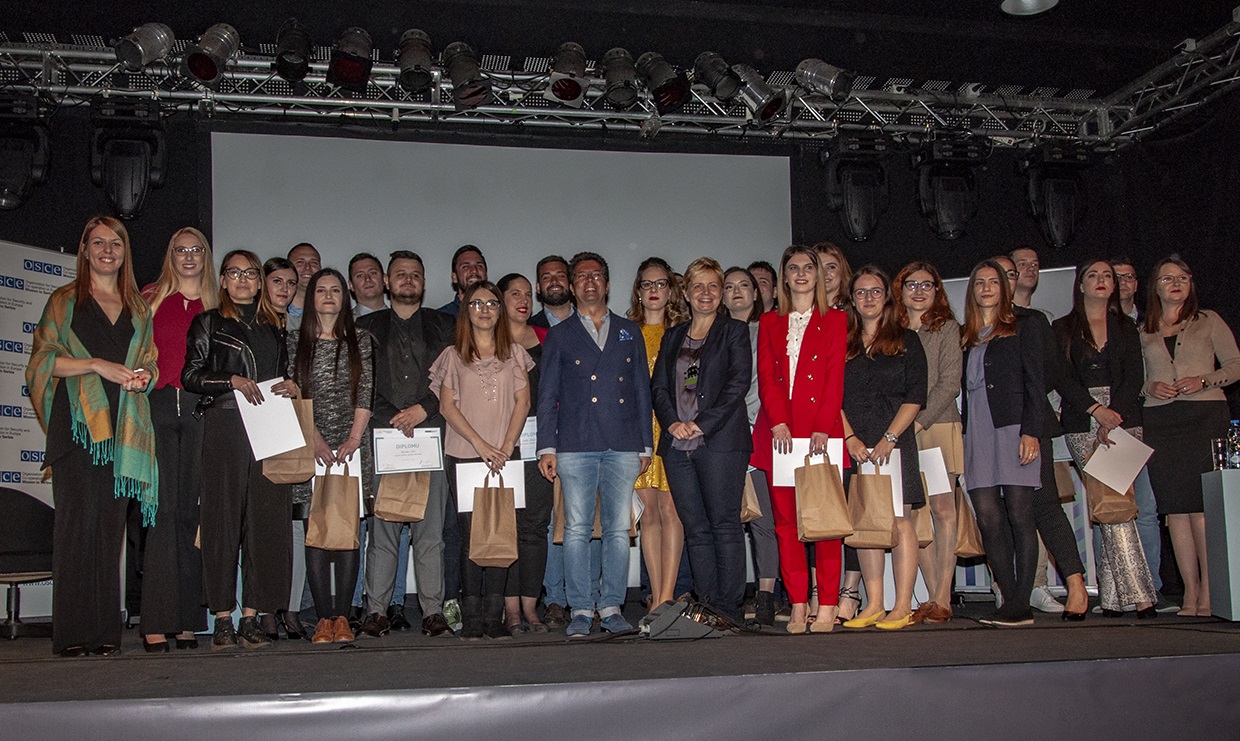 Photo by: Zoran Drekalovic
"It is necessary to open up institutions and leaders for potential dialogues with young people who are eager for change and advancements, while the growing apathy among future generations can be overcome by education and information", this is the conclusion of a panel discussion  "Two angles – is there a dialogue between us?" held during the final event and the diploma awarding ceremony to the  third generation of students of the Academy for Democracy organised by the CRTA with the support of the OSCE Mission to Serbia.
"I am honoured to be part of this Academy for the third year in a row. In an environment where young people are separated from political processes, such an educational programme contributes to the emergence of future young leaders who will lead the country towards the rule of law and democratic values. I am particularly fond of the Academy because it has improved over these three years and have included different lecturers and topics. The contribution of this programme is extraordinary, because thanks to the knowledge and skills that can be gained, the new generations will be more willing to participate in the dialogue and development of democracy in Serbia.", said the ambassador Andrea Orizio, the Head of the OSCE Mission to Serbia.
The CRTA director, Vukosava Crnjanski, thanked the OSCE Mission in Serbia for its support during all the years and expressed her satisfaction with the participation of all participants of this year's Academy.
"During these eight months, you have shown a serious democratic maturity. I would like to thank all the participants of our Academy for having expressed confidence in the CRTA team and also to all of us who had the role of lecturers and had the opportunity to transfer a part of our experience in building of a democratic Serbia. You are our future and I hope that we have contributed to your energy to stay here and develop dialogue and democracy in Serbia. It is a great honour and pleasure to have all of you, young people, in such a democratic endeavour", said Vukosava Crnjanski.
Panellist, Dejan Radenković, member of the parliament, Gordana Čomić, member of the parliament and this year's Academy participants Katarina Senić and Nikola Tamburkovski, agreed that it was devastating that our society despises dialogue, which is reflected not only at the political level, but also on intrapersonal relationships. The dialogue is supposed to be a voluntary process in spite of disagreements and confrontations. This is why listening and understanding are crucial for a productive dialogue.
 "As long as both actors are not open and determined to sit down and discuss topics and key issues for our society through dialogue, the latter cannot reach its full importance.   When it comes to future generations and their readiness to lead a society, my experience shows that it is getting harder for them as they are left to their own devices." said Dejan Radenković.   
"If you, as decision-makers and bearers of power, do not feel that it is necessary to consider whether something is moral and ethical, then you are not fit for this job. On should be well-studied and skilled enough to know what kind of consequences and effects a certain decision will engender. If you make a decision, you should reason it, because it can be life changing for citizens", concluded Gordana Čomić.
The Academy for Democracy is a one-year study programme intended for the representatives of the political youth, civil society and for young students and journalists. In the last three years, there have been more than 70 people who participated in this programme.
The entire panel discussion is available here.