Voter turnout by 19:00 slightly higher than in previous elections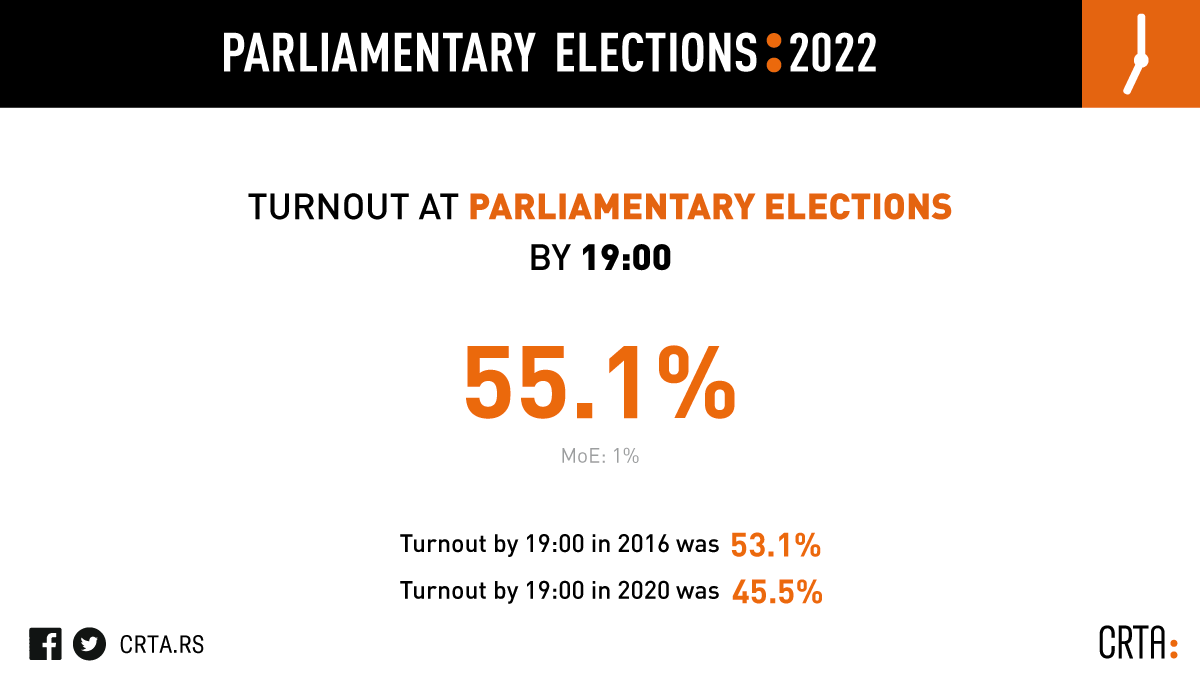 A total of 55,1 percent of citizens voted in the presidential elections by 19:00 (margin of error 1 percent).
In comparison, voter turnout by 19:00 in the 2016 parliamentary elections amounted to 53,1 percent, and 45,5 percent in 2020.
On the territory of Belgrade, voter turnout by 19:00 in parliamentary elections is 52,2 (margin of error 0,6 percent), which is 4 percent points higher than in the 2018 Belgrade elections.
From the last reporting at 16:30 CRTA's election observation mission submitted additional two complaints to the police on account of electoral corruption, totaling this number to seven complaints. Two complaints refer to cases of "carousel voting" that CRTA's observers recorded in Kula and Surcin, and five other to cases of vote buying identified in Majdanpek, Zitoradja, Cukarica, Sabac and Beocin.
In the second half of the day, the number of recorded sporadic cases of irregularities at polling stations increased, including parallel lists of voters and breaches of secrecy of voting. Such irregularities were recorded at 12 percent of polling stations in Serbia, while the number of irregularities in Belgrade doubled from the last reporting, amounting to 10 percent.
During the day, six verbal attacks toward CRTA's observers were recorded. Three such cases occurred at polling stations, where members of polling boards called out and threatened CRTA's observers, asking them not to send information to the CRTA's election observation mission. Another three cases occurred outside of polling stations.
Voting of citizens from Kosovo and Metohija at 46 polling stations in Kursumlija, Tutin, Bujanovac and Raska was characterized by large crowds and poor organization of polls, which led to the endangerment of the secrecy of voting, considering the simultaneous presence of dozens of citizens at some polling stations. Intensified control from the side of the police was also identified in front of polling stations.
Considering the conduct of elections on multiple levels, it is expected that the vote count will last longer than in 2020. In order to ensure reliability and accuracy of data, CRTA will publically present preliminary results of elections when information from at least 95 percent of polling stations from its sample is collected and processed.
Generally, data is first received from smaller polling stations, while processing of information from polling stations with more than a thousand voters could sometimes last for hours. For example, if more data is processed from smaller than from larger polling stations, such a projection of results could be distorted.
The next conference of the CRTA's election observation mission will be held after at least 95 percent of polling stations from both samples (Serbia and Belgrade) are processed. The conference can be followed live at the CRTA's Facebook page or YouTube channel.