Union of Informed Citizens received the Democracy Defender Award for 2019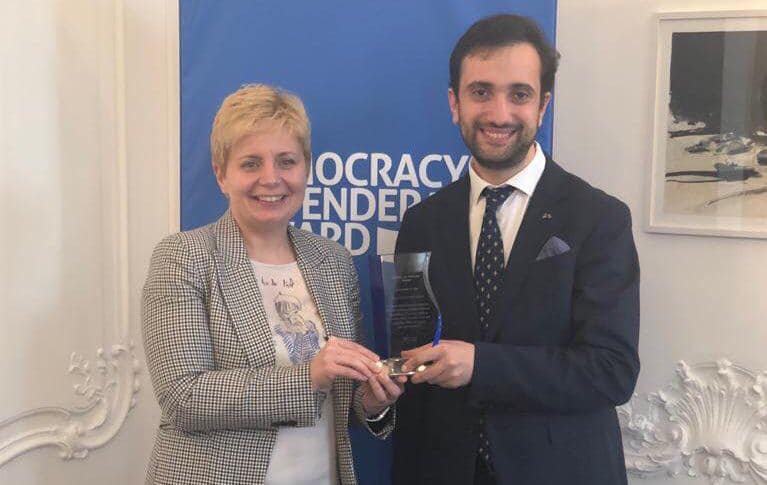 Photo by: CRTA
The Union of Informed Citizens (UIC), an Armenian civil society organization, received the OSCE Democracy Defender Award for 2019. The award ceremony took place on March 11 in Vienna, and was attended by CRTA Director Vukosava Crnjanski as a representative of the last year's Democracy Defender Award recipient.
A total of 36 OSCE delegations presented the award to the Union of Informed Citizens for its outstanding contribution to promoting independent journalism and informed decision making, as well as to strengthening election monitoring in Armenia.
The Democracy Defender Award was established in 2016 with an aim to honor a person or a group for exceptional contributions to the promotion of democracy and the defense of human rights in the spirit of the Helsinki Final Act and other OSCE principles and values.
Director of CRTA as the previous Democracy Defender awardee had the honor to address the participants at the ceremony.
"We see that we share similar struggles with democracy defenders across the region that is increasingly affected by crisis and threats to democracy, and shrinking space for the work of democracy advocates. This is why the recognition of civil society through the Democracy Defender Award brings enormous support and motivation to all of us committed to safeguard citizens' rights and freedoms", said Vukosava Crnjanski.
CRTA team congratulated the new recipient of the award through video broadcast.
Ne postoji jednostavan recept za odbranu demokratije ali ono što je sigurno je da je ne možemo odbraniti bez hrabrih i slobodnih građana i aktivnog i solidarnog civilnog društva! Sve čestitke borcima za demokratiju u Jermeniji – Union of Informed Citizens, dobitnicima #DemocracyDefenderAward 2019!

Gepostet von CRTA am Montag, 11. März 2019