The Misdemeanour Court reached the verdict: the Minister Vulin got fined for denying information of public importance to the CRTA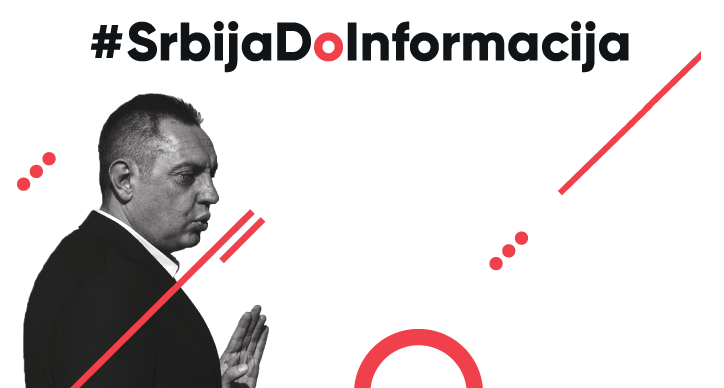 According to the verdict pronounced by the Misdemeanour Court in Belgrade, the Minister of Defence Aleksandar Vulin got fined in his capacity of an accountable person in the Ministry of Defence – Military Intelligence Agency, which had not responded to the CRTA's requests addressed in accordance with the Law on Free Access to Information of Public Importance.
The Minister Vulin got fined with 10,000 dinars and is held to pay 1,000 dinars for misdemeanour proceedings fee.
"This verdict is important because it sends a clear message that it cannot be decided arbitrarily whether the public has the right to know how the public authorities act. The Law on Free Access to Information of Public Importance guarantees to citizens the insight into the public authorities' work and prescribes which information is of public importance" said Raša Nedeljkov, the CRTA programme director who was also the one requesting the information.
The verdict was pronounced when the CRTA started celebrating the first Week of the Public's Right to Know within the campaign "Serbia in quest for Information" launched as a reaction to the Draft Amendments to the Law on Free Access to Information of Public Importance that indicate that the state has the intention to hinder the public's insight into the work of state institutions.
The information that the CRTA requested refer to the incident that had taken place in the corner of Birčaninova and Svetozara Markovića streets during the 2014 Gay Pride, involving besides Andrej Vučić and Predrag Mali, the Military Police, as well. The Military Intelligence Agency did not submit the requested information within the stipulated deadline, nor passed on a decision rejecting such request.
The CRTA demanded the access to copies of documents relating to the incident, as well as the information about the total number of cases, including data for 2014 and 2015 that the Military Intelligence Agency had requested from other authorities, but excluding those that might jeopardise personal data. Reasons for refusing to act according to demands relate to the confidentiality of the information requested, but the Misdemeanour Court considered that the requested information was not classified as "confidential", as the Military Intelligence Agency had stated
You can read the reasoning of the verdict here.