CRTA addressing on upcoming elections at EU-Serbia Joint Consultative Committee on 25 March 2022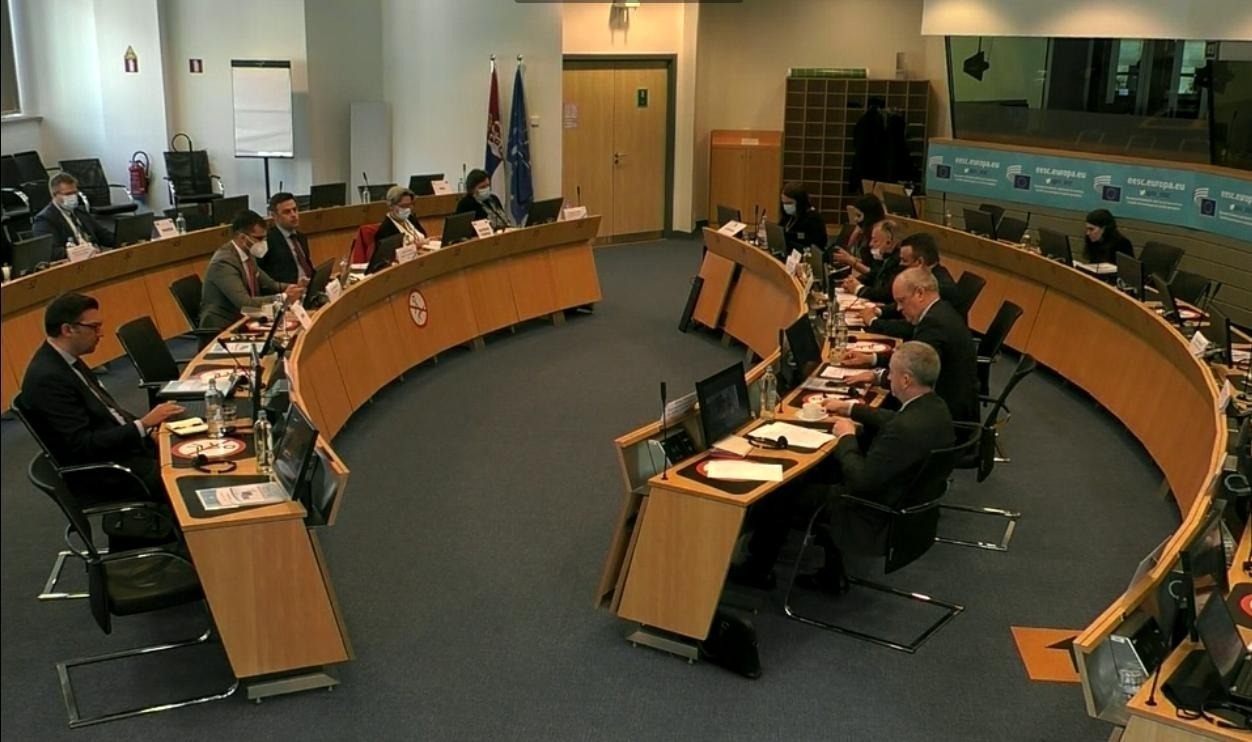 On behalf of CRTA, I would like to thank you for the opportunity to address the Committee. 
The election campaign in Serbia started with diversity in the election offer but in less favorable conditions for parties that do not constitute the ruling majority. The course of the campaign, so far, shows the presence of issues which burdened previous Serbian elections, also erasing the line between the state and party: abuse of state resources and office, pressures on voters, vote-buying and other forms of electoral corruption.
CRTA leads the largest election observation mission in Serbia, and its long-term observation team, with more than 100 observers, analysts and legal experts, closely monitors the political and election atmosphere in media and on the ground for the last six months. I would like to single out several issues which marked both the period before and during the election campaign:
(First) significant cases of misuse of institutional advantages by the ruling majority, based on which CRTA legal team filed more than 20 complaints since the start of the campaign 
(Second) sophisticated and continuous methods of pressure on voters, especially on public sector employees and minority groups, along with other forms of electoral corruption are spread across the country,
(Third) electoral integrity is undermined, as a controversial election list led by extreme right figure, will compete in elections despite it forged voters' signatures in candidacy process,
(Fourth) dominant and biased media reporting on ruling parties, despite increase of media time for opposition candidates, and
(Fifth) increasing social tensions and distrust between ruling parties and opposition which reflect in their clashing narratives of state enemies and anticipated electoral fraud,
Instead of leveling the playing field for all election contestants, protecting rights, and increasing civic trust in elections, institutions are either silent or ineffective in responding to challenges. From the Regulatory Authority for Electronic Media, and the Anti-Corruption Agency, to temporary oversight institutions created within inter-party dialogue – state institutions seem to participate in creating a false impression of the quality of electoral conditions. 
Institutional abuses are deeply worrying and CRTA's robust data (60 in-depth interviews, 46 hours long, so far) show that the public sector and, particularly, the welfare system stand out as channels of pressure on citizens. By documenting pressure across Serbia, which are in many cases a continuum and not necessarily connected to specific elections, CRTA established that public sector employees and minority groups are the most vulnerable to coercion to comply with political demands of the environment. Violence takes the form of punishment or reward, and usually is connected to a workplace or relies on access to citizen records and personal data. I would like to emphasize that similar cases were recorded in previous elections, but were never investigated or resolved, such as for example suspected leak of personal data of social, pension and disability insurance beneficiaries that were systematically used by ruling parties in 2020 elections.
Among groups of population which are the most exposed to pressures in relation to elections, the Roma community is the most endangered. CRTA's data show that they are being exposed to variety of mechanisms – from threats and intimidations in relation to Roma social and economic position (that they will lose their social benefits or suffer sanctions), depriving them from their citizen rights (such as withholding their ID cards until election day), physical violence, to vote-buying or rewarding their behavior by other means.
The size of the problem, as well as social atmosphere, can also be illustrated with the latest public opinion done by CRTA in the second half of February this year. Almost every fifth citizen of Serbia was a victim or witnessed pressure in their nearest surroundings in previous elections, while as much as 41% expect coercion and intimidation in the next elections.
CRTA's findings also reveal that political clientelism is among the core political strategies in Serbia – dominantly connected to ruling parties. Every tenth political party activity indicates vote buying, as shown by CRTA's long-term field observation findings in the first half of the election campaign. Moreover, clientelism is wrapped up in official state policy. Intensive one-off state programs of financial aid for citizens took place just before the start of the campaign.
MEDIA. The campaign was launched on a less equal footing in the media, compared to 2020 elections. Even though a long-term, chronic lack of political pluralism gradually declines since elections were called with a larger presence of opposition, substantial changes in most-consumed media are lacking. First, changes in the limited timeframe of the campaign will hardly erase effects of previous months. Second, the tone and the manner of reporting in the campaign continue to show extreme biases in favor of ruling candidates and against opposition on the majority of TV channels with national coverage. Public broadcaster RTS shows the most balanced reporting, so far, showing the most professional reporting on electoral offer.
2022 Elections will take place in the shadow of the Russian invasion of Ukraine. Pro-regime media in Serbia are on a daily basis exploiting the war to glorify Russia and to spread fear by revoking citizen memories of 1999 NATO bombing. Simultaneously pro-regime media are creating new narratives that the president is heroically resisting pressures in securing Serbian independence and safety. In this context, it is important to note that the significant coverage of the President in the programs of all television channels with national coverage is an essential feature of elections. In two weeks before presidential elections were called, the President of Serbia received 84% of media time, either in the capacity of the incumbent or a party leader, while the remaining 8 presidential candidates all together got 16%.
Practice confirms that the inter-party dialogue on election conditions failed to address the burning problems which create inequality between election participants and citizens' distrust. Serbia only got a more complex institutional framework and election procedures, which, apart from introducing legal insecurity, either deliver no results, or actively manipulate with information – such is the case with REM's media monitoring, whose accuracy is controversial due seriously flawed monitoring methodology. It is also now confirmed in practice that the 2020 changes of election laws, which deviated from ODIHR recommendation, increased the space for various manipulations and abuses, such as forgery in the candidate registration process. In addition, a dispute about the Voter Registry is again open in public by several opposition parties, deepening citizen distrust in elections. An atmosphere of distrust is likely to evolve, especially when an adequate and transparent institutional reaction is missing.
Allow me to say that all these election developments are directly connected to continuous, long-lasting attempts by the government and pro-regime media to undermine EU and European values in Serbia. Although there is hope for democracy, as 60% of citizens still favor it, there are several developments that could become a turning point for Serbia's EU future: 
first, the doubled number of citizens who would feel worried if Serbia would join the EU, primarily within ranks of the ruling party supporters
second, the war in Ukraine and Serbia's positioning in international relations, and
third, developing anti-democratic narratives in the pre-election period. 
To conclude, lack of strategic vision, confusion about the future path of Serbia, and extreme state capture turns out to be too complex problems with a very long history, to be even slightly repaired with the upcoming elections. But, it is more than ever important that Serbia's EU perspective remains tangible. Without it, it would be almost impossible to fight influences and processes which are for years undermining democracy in Serbia. We strongly believe that without an EU perspective, there is no democratic future for Serbia.
Thank you.