Election campaign present even before the elections were called, CRTA submitted nine charges to the Anti-corruption Agency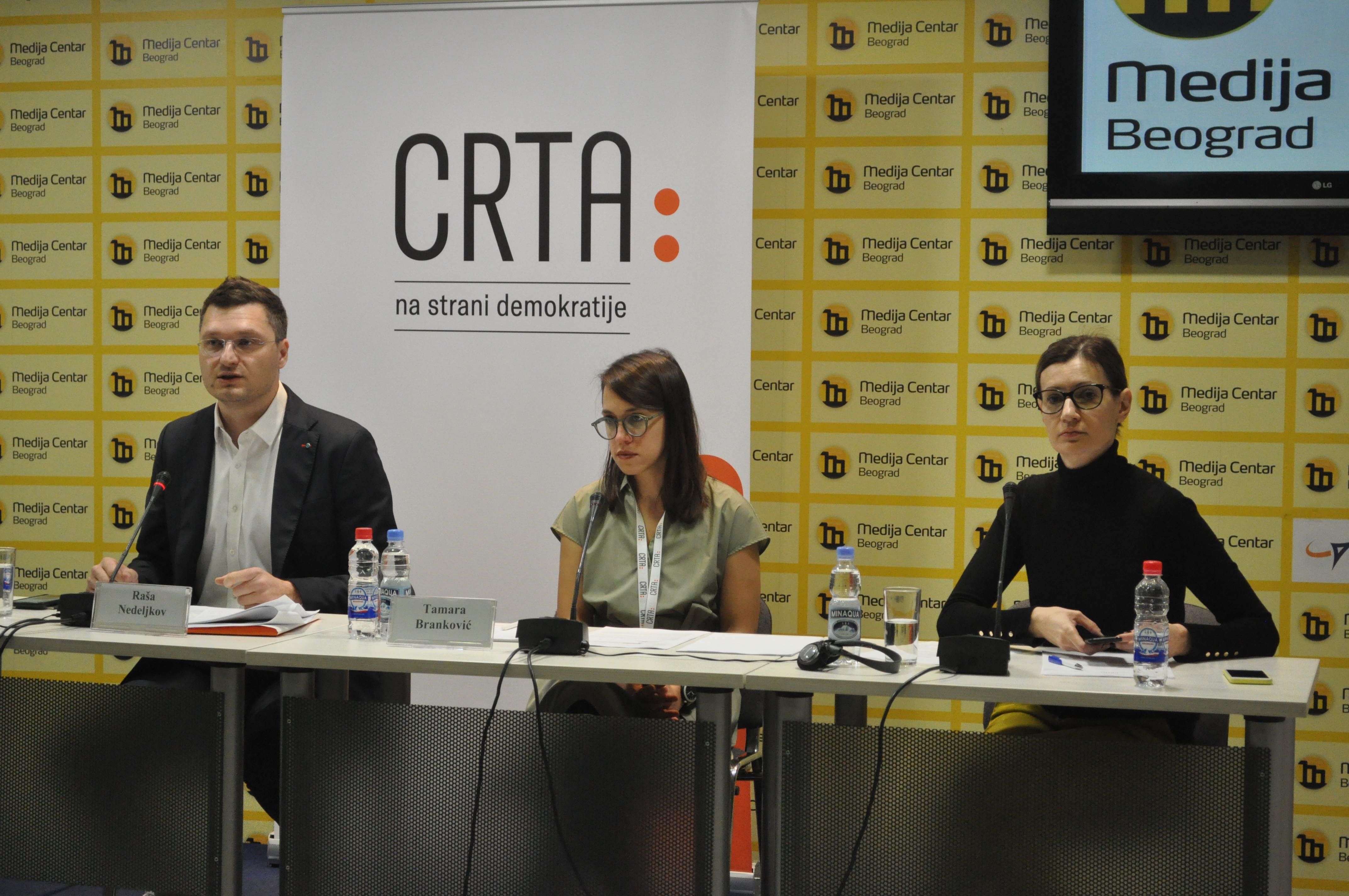 Photo by: Media Center
CRTA's election observation mission has started the long-term observation of the pre-election period in Serbia in accordance with international standards for an independent election monitoring by citizen organizations. A team of 120 long-term observers has been monitoring key segments of the campaign for election of Members of the Parliament three weeks before the elections were called, while the media monitoring team has been systematically following the reporting of media outlets with national coverage since mid-October 2019. 
Findings of election observation by March 3, 2020 inclusive showed that political actors have been active in promoting their political options and communicating with voters, while the serious disbalance in media coverage of representatives of the ruling majority, opposition and opposition in boycott has been present as well.
Within this observation period CRTA submitted nine charges to the Anti-corruption Agency, including seven related to cases of misuse of public resources, two on account of the public officials campaigning and three in reaction to breaches concerning the prohibition of financing regulated by the Law on the Financing of Political Activities. One charge has been also submitted to the educational inspection in reaction to identified cases of illicit activities of political actors at education institutions. Allegations about pressures on voters have been recorded as well, particularly those targeting public sector employees. 
"Our election observation mission aims to effectively monitor and analyze the implementation of the law and international standards for conduct of elections, to inform citizens about the quality and democratic character of the election process and developments within the election campaign, as well as to ensure the prompt reaction in cases of breaches of electoral procedures. We will continue to monitor and assess allegations about pressures on voters and are inviting the authorized institutions to employ all necessary measures to investigate these cases and sanction identified perpetrators", Rasa Nedeljkov, Chief of the CRTA's election observation mission stated. 
Several cases of pressure on political actors were recorded across the political spectrum as well, including the demolition of party premises by unidentified actors, preventing the conduct of promotional activities in public spaces and cases of intimidation.
More than 170 cases were recorded where political activists were distributing humanitarian aid packages, organizing community actions, providing medical and other assistance services to households, associations and institutions. 
"Although considered as acts of bribing the voters and indirect vote-buying, and not employed for the purpose of establishment and operation of political parties, humanitarian activities were used by the ruling political parties as one of the key methods to engage with citizens", Tamara Brankovic, CRTA Research Coordinator stated.
Findings of media monitoring, implemented in the period from October 14, 2019 to March 3, 2020, show that all televisions with national coverage dedicate majority of time to representatives of the ruling majority, while their reporting about the ruling parties is mainly positive or neutral, about the opposition mostly neutral and about the opposition in boycott predominantly negative.
A summary of the report is available at: https://crta.rs/en/elections-2020-campaign-before-the-campaign-full-report