About us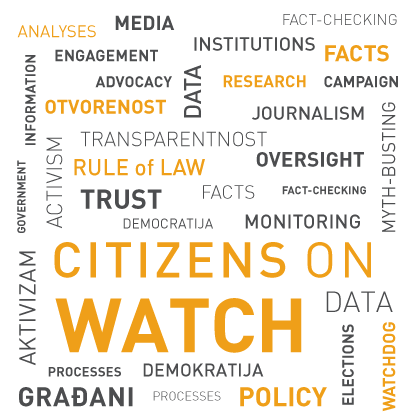 The CRTA gathers people who want to live in a modern and democratic society where citizens are free and equal before the law, where institutions protect the public interest, where the media are independent – in a society where accountability is the basis of all social and political relations.
We believe that politics is open for everyone, rather than a process exclusively reserved for the politicians. We want to help create and reinforce democracy and defend it when it is threatened.
In 2002 we founded the CRTA (Centre for Research, Transparency and Accountability) as a citizens' association which gathers people with broad experience in the areas of citizen activism, journalism and politics. By advocating implementation of the concept of responsible behaviour in a society, we develop different mechanisms for monitoring and evaluating the degree of accountability of holders of authority, we research and educate citizens and politicians about the concept of accountability and we advocate the concept of responsible behaviour to be implemented in practice and legislation as the basic value of a developed democratic society. We demand from decision-makers to report their actions to the citizens. We use researches, analyses, media techniques and new technologies in our struggle for a more responsible society. We have launched several initiatives such as: Citizens on Watch, Open Parliament and Truth-O-Meter.
We would like an increasing number of citizens to join us!
Vision

Citizens take the lead in holding their elected officials to account. Government increasingly demonstrates accountability to citizens.
Mission

Together with the citizens, the CRTA initiates political changes through online and offline mechanisms which: inform, educate, motivate, reinforce democratic institutions and influence politics and politicians.
Our values
Accountability
Transparency
Partners
Future Digital
Jerinin grad